If you are in the B2B market, you understand that getting your fellow professionals to notice you and gain interest in your products or services is a hard nut to crack. Unlike business-to-consumer marketing, B2B requires you to prove that you can add real value and maximize returns. As such, it takes time, effort, and creativity to land a prospect.
Among many B2B marketing tactics that leverage the growing use of messaging apps is the LinkedIn conversation ad. With this ad unit from LinkedIn, you can easily increase engagement with your prospects while cutting your CPC in half. Conversation ads are an easy way to provide your audience with a broad range of information under one ad. Even better, unlike other traditional paid ads, your audience may not have to leave LinkedIn to learn more information about your products or services.
If you are still skeptical about the idea, here is everything you should know about the performance of new LinkedIn conversation ads.
How Do LinkedIn Conversation Ads Work?
Conversation ads are classified under two main categories based on the goal of the conversation:
Goal: Lead generation | These conversation ads feature at least two call-to-action buttons and a Lead Gen Form.
Goal: Website visits | These conversation ads feature at least two call-to-action buttons and a link to a webpage.
This form of LinkedIn advertising is a perfect B2B marketing tactic for senior executives who may not have time to reply, or prospects who are using LinkedIn on mobile. It provides marketers with an opportunity to engage with professionals who would have otherwise been inclined to ignore your message when scrolling through their inbox because it took too much time to reply. However, when you reach out via the conversational message ads, it reduces the effort needed to check out what you have to offer.
LinkedIn conversation ads can provide you with an opportunity to:
Improve Engagement With Your Target Audience: This advertisement tool allows you to add several call-to-action buttons. With this, your audience can access different types of content, depending on what interests them.
Increase Conversion: You can easily turn the conversation to a conversion, provided you do it right. This is the easiest way to drive high leads because it allows you to provide your audience with relevant questions that lead them down the path to conversion.
Gain Insight Into Your Audience's Needs: This marketing tool provides a platform for asking questions and getting a detailed report on the type of products or services your prospects need. You can determine this based on the number of clicks and engagements per conversation.
LinkedIn Conversation Ads Versus Other Ad formats
This advertisement tool works more like a chatbot, meaning that you do not need to necessarily be online to send the messages and engage with your audience. It allows you to set up several call-to-actions, thus giving your audience a chance to engage with a range of offers, all in one ad.
For example, if they are interested in the service page, they can go directly there without needing to check your blog page. If they are interested in both, then everything is at their display. By offering different content and offers in one ad message, users can choose to engage with the content they want without wasting time.
This not only provides a great user experience but also increases the chances of conversion. You'll be offering them valuable information that solves their exact problem, and that is what you need to gain leads.
From this, it is evident that LinkedIn conversation ads perform better than traditional formats such as messages and sponsored content ads. This is primarily because with conversation ads, you can personalize the message to provide your audience with what they need. Unlike sponsored content ads, these provide users with a 'choose your path' feature, allowing you to create a marketing campaign with several call-to-actions such as sign-ups, ebook downloads, or webinar registrations.
The other amazing feature that differentiates LinkedIn conversation ads from other formats is that the message is only sent when the recipient is active on LinkedIn. This means that they are not caught off guard and are in the right business mindset, hence increased chances of conversion. You may also integrate other existing features such as conversion tracking and lead gen forms to determine how well the campaign is doing.
Remember that in B2B, you are dealing with your fellow professionals, and they expect you to go an extra mile to prove your worth. They also value time, and not everyone has the time to go through an entire page, checking if there is something that interests them. Conversation ads are a win.
Crafting the Message
The most exciting part about LinkedIn conversation ads is that you can track your audience and know how far they have reached in the conversation funnel. You can then tailor a personalized message based on that to guide the prospects in every step. With LinkedIn, you should expect quality engagement from your audience, as you will only be serving them with relevant content.
This is crucial in the B2B market where purchasing cycles and decisions are longer, making conversation and engagement crucial in building trust. Conversation ads allow you to turn from one-sided messages to an engaging conversation. This means that only interested parties will engage; thus, quality leads.
"Conversation Ads are a great vehicle to engage our target audience in a personal and meaningful way. It provides the opportunity to serve up content that is of interest to them, and thus delivers a positive experience coming from the Coupa brand.

We leveraged Conversation Ads to promote a live webinar, with the option to request access to an on-demand webinar as an alternative. We love that the members have the option to engage with Coupa in a way that fits their needs."

Erin Triman, Senior Digital Marketing Manager, Coupa
Conversation ads are an excellent tool for increasing engagement and attracting quality leads, and this makes them a perfect B2B marketing strategy. If you want to really dive in, check out this Linkedin Conversation Ads Best Practices Guide along with 6 best-in-class examples:
What's next?
If you're looking to incorporate LinkedIn conversation ads into your marketing campaign, but you aren't sure of how to get started, get in touch with us today for Paid Social Management.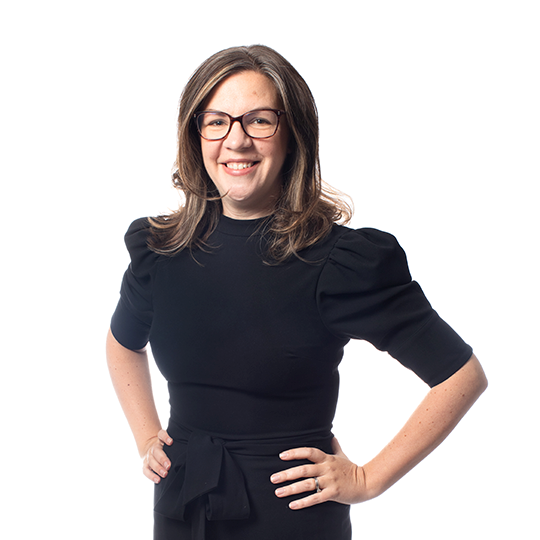 Whitney Mitchell
Whitney is a natural leader with a knack for creating something out of nothing. She's helped dozens of brands gain greater recognition for their causes and products in the digital world. Whitney's experience doing literally every job Beacon offers, from graphic designer to operations to web developer means she's not afraid to roll up her sleeves and dig in when it comes to helping Beacon's clients build the future of business.