A cutting-edge marketing strategy is only effective if a business has someone in place to develop and execute it. More and more often this role is fulfilled by a Chief Marketing Officer (CMO), yet many organizations struggle to find the money to hire a senior-level full-time employee when so many other items demand a similar resource investment. A fractional CMO is a unique solution that can offer the benefits of a CMO or Senior Marketing Director without the long-term costs. Here's how.
What is a Fractional Chief Marketing Officer (CMO)?
In order to develop a successful marketing strategy and see it through, relying on mid-level team members and freelancers alone will not suffice. Adding another C-level role, however, may not be feasible. A fractional CMO allows a business to:
Gain the expertise and counsel of an experienced CMO without the expense of a full-time hire
Help perform some of the tasks a traditional CMO would, but on a part-time basis
Provide oversight to junior or mid-level marketing managers that other leadership members don't feel prepared to offer
What Are the Benefits of Hiring a Fractional CMO?
While every B2B business has different customers, challenges and marketing goals, the lion's share of organizations realize a similar set of benefits by partnering with a fractional CMO.
Marketing Expertise
As customer behaviors and industry need change, so should your marketing. Fractional CMO services allow businesses to tap into the knowledge and skills of marketing professionals who are experienced in the industry, can predict and analyze changes within it and adjust their strategies accordingly.
External Perspective
You and your marketing team work hard to bring an objective, data-based strategy to your marketing efforts. Still, industry shifts can be difficult to sense from within the company, and often a fresh perspective can be a game-changer for B2B businesses. A fractional CMO can bring external experience to new marketing approaches, ideas and trends you might not have considered.
Competitive Awareness
In an increasingly saturated B2B market, staying in touch with competitors' strategies, strengths and weaknesses is essential. But perpetual market research and strategy evaluation takes a keen eye and extensive marketing experience that other C-level members of your team may not have. A competent fractional CMO or fractional CMO agency will help you stay ahead of your competition and identify methods of differentiation, enabling your business to compete more effectively in your industry.
Manageable Growth
Fast-growing businesses face an entirely new set of challenges, everything from hiring increases to office supply demands. These changes necessitate an enhanced marketing plan that adequately accommodates and complements a business growth cycle. While your C-suite may or may not have experience managing growth, a fractional CMO brings a wealth of marketing experience, including marketing for growing businesses. With a fractional CMO on board, you'll be better able to anticipate your marketing needs, as well as the needs of your clients, as your business grows.
How Do You Know If Your Business Needs a Fractional CMO?
Although every business has unique marketing challenges, for many there are some common circumstances that will inevitably benefit from the expertise of a fractional CMO.
For example, regardless of the age or size of your business, your budget often cannot be adjusted, or simply isn't big enough to justify another C-suite executive. By working with a fractional CMO, you'll have a dedicated marketing professional with years of industry experience without the full salary burden associated with full-time hires, such as benefits, vacation time, and recruitment and onboarding costs.
Perhaps your existing marketing team has not stayed current with new marketing techniques and trends, and your strategies need to be brought up to date with the industry thinking and new technology. An effective fractional CMO will work directly with your company's existing marketing team, moving them seamlessly into the world of contemporary digital marketing — and leaving them with a new and valuable set of marketing tools and tactics.
Only you can decide if hiring a fractional CMO is the right move for your B2B business, and you may need to learn more before deciding whether a fractional CMO or fractional CMO agency is the right choice for your organization. That's where we can help.
Beacon Digital Marketing remains the leading B2B marketing agency for businesses that focus on cybersecurity, fintech, regtech, and SaaS. We can give you the guidance and advice that you need to succeed. To learn more about the ways our marketing strategy, content and design, performance marketing, SEO, web design, and marketing technology services will help you achieve your principal marketing objectives — and take your B2B business to the next level — drop us a line today.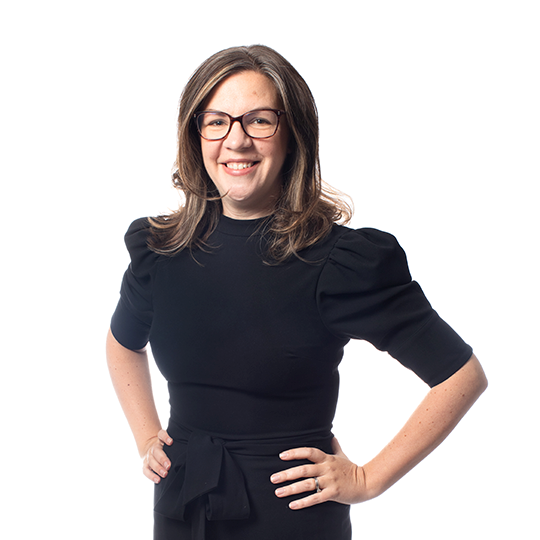 Whitney Mitchell
Whitney is a natural leader with a knack for creating something out of nothing. She's helped dozens of brands gain greater recognition for their causes and products in the digital world. Whitney's experience doing literally every job Beacon offers, from graphic designer to operations to web developer means she's not afraid to roll up her sleeves and dig in when it comes to helping Beacon's clients build the future of business.