This blog was coauthored by Whitney Mitchell, CEO & Founder of Beacon Digital Marketing, and Lara Triozzi, CEO & Founder of MarketLauncher.
In the first half of 2022, technology company stocks are plummeting and the Nasdaq is on pace for its second-worst quarter since the 2008 financial crisis. Financial Times has called it a 'technical recession' and meanwhile, start-up investors are telling their portfolio companies they won't be spared in the fallout, and that conditions could be worsening. All the news makes most businesses reassess their growth projections for the second half of the year, and looking for ways to cut expenses across the board.
However, based on our combined decades of experience leading marketing and sales within B2B companies large and small, and professionally advising hundreds of additional companies, we'd suggest rethinking the conventional wisdom to pull back on marketing and sales during a recession.
Conventional Thinking: Focus on Profit Margin, Not Growth
When a large VC firm issued a warning to their portfolio companies in May, they cautioned that over investing in marketing and sales for the next two quarters would be less beneficial than focusing on bottom line profits. Founders and owners were encouraged to find places to cut, specifically in areas of Marketing and Human Resources. After all, if people are less inclined to purchase due to economic factors, why spend the money to reach them — aren't you just wasting your money?
Alternative Approaches
While we'd certainly agree that using the same strategy during a recession as during boom times is short sighted, there are ways to shift your marketing and sales spend to take advantage of a recession and come out stronger on the other side.
Here are four tactics we'd suggest:
Try shifting your strategy to focus on thought-leadership and awareness. If buyers are less likely to convert during a recession, shift your spending from your "bottom of funnel" tactics to "top of funnel" tactics. This helps you stay top of mind so that when buyers are ready to start converting, you've solidified your place as a valued resource. Moreover, advertising platforms like LinkedIn, Facebook and Google, are likely to serve your top of funnel ads more efficiently during a recession because other advertisers have pulled out. We saw this specifically during Covid, where the reduced demand from advertisers led to vast improvements in cost-per-impressions and cost-per-clicks for advertisers who stayed in the auctions as others left.


Try expanding your target market to reach verticals that are less impacted by recession. Some industries are more immediately impacted in a recession than others, like restaurants, travel or retail. Refocus your marketing campaigns toward industries that will fare better during a recession, like defense contracting, financial services, B2B professional services, medical and healthcare, or other markets relevant to your business. This might mean you need to create new collateral, new case studies, new website content or ads, but expanding your target audience now could mean even greater and more stable growth opportunities as the economy recovers.


Modify your product or price point to cater toward the "new-normal". We've worked with many businesses that were able to survive and thrive during Covid because they responded quickly to changing market dynamics and created product variations or new price points that made it easier to bring on new customers who were wary of new commitments. These tactics included offering free trials, freemium software versions, easier subscription terms, among others. For professional services companies, we've seen companies successfully create new offers that directly address their client's concerns about high price points and long term commitments.


Revive old accounts and build stronger relationships with current customers. For B2B companies, we call our account revival strategy our

FANS strategy (Former Account, New Success)

. This is a concerted, measurable and tracked effort to stay in touch with your customers who have left their roles and joined a new firm where your product or service could be a fit. Tracking the movement of your customers from one account to another prospect can be an immensely successful way to expand your business since most people when they leave their companies stay within the same industry and type of role. Your FANS strategy should start with building stronger relationships with your existing customers — take the time during the recession to develop relationships, even strategizing on ways to potentially alter your offerings to better meet their needs during uncertain times.
Measuring Success
During economic uncertainty, shifting your strategies and tactics for marketing and sales could mean measuring different things. For instance, if you're shifting your strategy to focus on building awareness in a new vertical you might want to start measuring your overall cost per impressions, or the pace of acquiring new contacts within your target accounts, rather than focusing on measuring your cost per customer acquisition.
If you're planning to implement a FANS strategy, you might measure how many of your contacts from former accounts you can identify and put into an email communication sequence, and then measure engagement, response rates, and booked meetings related to those campaigns.
Who Can Help
Although a recession isn't certain, we find that companies who take it as an opportunity to re-focus their marketing and sales teams come out of the recession leaps and bounds ahead of their competition.
If you need some help to refocus your campaigns in the second half, the teams at MarketLauncher and Beacon Digital are well positioned to help. Don't give in to that conventional thinking that you can't be successful — we can help you develop new markets, build thought leadership campaigns, and convert those leads into meetings, even within the challenging economic environment that lies ahead. Contact us for a consultation today.
This blog was coauthored by Whitney Mitchell, CEO & Founder of Beacon Digital Marketing, and Lara Triozzi, CEO & Founder of MarketLauncher.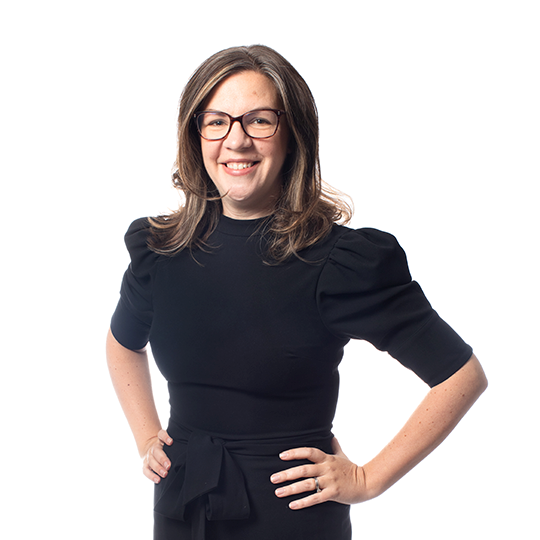 Whitney Mitchell
Whitney is a natural leader with a knack for creating something out of nothing. She's helped dozens of brands gain greater recognition for their causes and products in the digital world. Whitney's experience doing literally every job Beacon offers, from graphic designer to operations to web developer means she's not afraid to roll up her sleeves and dig in when it comes to helping Beacon's clients build the future of business.