B2B companies who target a very specific set of buyers often use an account-based marketing (ABM) approach to prioritize their sales and outreach efforts.
What does "account-based marketing" mean?
Account-based marketing is simply the identification of key accounts (or companies) that are the most ideal or likely buyers for your services or product. It could be a list of 10 companies, or a list of 1000 companies. Depending on what you sell, the size of your sales team and other factors, creating a list of target companies may or may not be the right approach for your business.
With an ABM sales strategy, your sales team may each be assigned a subset of your target accounts to pursue during a sales cycle and their performance would be measured by their success in identifying decision makers, securing meetings, and ultimately winning business with this list of target accounts.
How is ABM different from inbound marketing?
While account based marketing seeks to proactively identify businesses who are the best fit for your product or service, inbound content marketing seeks to bring interested companies directly to your sales team by developing content and resources tailored to their needs. They are not mutually exclusive and can certainly be executed together.
Which lead generation approach is right for my company?
Account based marketing is a great approach if your company has a limited universe of potential clients or customers and it's easy to identify them. For example, if you know that your services are only affordable for Fortune 50 companies based in the United States, then your list of target companies is quite small. It makes sense for your sales team to focus their efforts on building relationships with the small set of identified prospects. Inbound marketing is ideal when the number of prospective clients is large, and it's not feasible to easily narrow down which companies are most likely to be interested in your product or services.
However, many companies fall somewhere in between these two extremes, where actually both tactics can be leveraged together to have the maximum impact. At Beacon Digital, our clients are often pursuing both approaches, and we've developed some basic entry level tactics to help demonstrate how digital marketing inbound techniques can actually make ABM strategies even more effective.
5 Digital Advertising Tactics that Support ABM Campaigns
1. Linkedin CRM Remarketing or Company Prospecting
Linkedin's Ad platform offers the ability to serve ads to a target list of companies (a recommended list size is 1000 companies), as well as a list of contacts or leads within your CRM (ie Salesforce, HubSpot). To do this, you can download a list of the lead and contact email address that you have identified as prospects, and then upload that list as a "Matched Audience" in Linkedin. Linkedin will then search its own database to see if it can match the email addresses up to known Linkedin profiles, and from that, it will create an audience for your ad campaign.
There is no fee for uploading multiple audience lists, so you could potentially create matched audiences from your CRM for each product or service you are trying to market to.
Once those matched audience lists have been built in Linkedin, you can use them for any new ad campaign you create on Linkedin.
Why does this help? If your sales team or third party teleprospecting company is actively pursuing meetings with these companies, have additional visibility by serving relevant content to them on Linkedin can improve the chances that a phone call will be well received.
2. Google CRM Remarketing in both Search and Display
Much like Linkedin, Google Adwords also offers the ability to upload targeted CRM lists to create matched audiences for display advertising. But you may NOT know, that you can also use CRM lists for your search campaigns as well. Running this type of audience-based campaign can allow you to bid higher for clicks to your site if a search is being conducted by a member of your CRM list. That's pretty cool, and also pretty effective for staying on top of search results for the people that count!
3. Facebook CRM Remarketing
Up until late 2017, Facebook offered advertisers the ability to target by self-reported company name, but with the loss of that feature, B2B companies have had to adapt. While you can still target by job titles, business size and fields, B2B advertisers who want to adopt an ABM strategy for companies that are not as well known or large in employee size - are at a disadvantage for prospecting efforts. However, Facebook CRM retargeting also offers matched audiences, identical in process to both Google and LinkedIn. Simply upload your CRM list and Facebook will match back to any users who's email addresses are registered to profiles on the platform. Keep in mind that while most users will use their business email address on LinkedIn and Google, they may be more inclined to use a personal email on Facebook, and therefore match rates may be slightly lower for B2B lists.
4. Programmatic Display CRM Remarketing
Similar to Google Display, there are a number of programmatic display partners that allow CRM retargeting and specifically ABM targeting. Most B2B programmatic partners will request a list of companies you'd like to target and be able to match back to users who work at those companies through their large third party data integrations. They can even go as far as targeting specific IP addresses if you know the IP address of companies you're interested in reaching out to.
5. Linkedin inMail Campaign
inMail is an ad format available through LinkedIn Advertising that allows you to deliver messages straight to members inboxes. Instead of hoping they might scroll past your ad in their LinkedIn Feed, you can deliver them a personal message at the exact moment they open their LinkedIn App or visit it on their desktop. You can even add automatic personalization in your message by pulling in the name of the company they work for into the text.
In our experience, LinkedIn inMail campaigns can be great for targeted outreach to identified accounts, especially if you are seeking to build relationships. The trick with inMail is to offer something that is truly of value to your ideal buyer -- make your first connection meaningful and genuine, and you will be rewarded down the line.
Ready to amplify your ABM strategy with digital ads?
Beacon Digital Marketing works with dozens of clients to amplify their digital presence with their target accounts. Contact us today to set up time to talk with us about your sales goals. Or, if you just want to read more interesting stuff about ABM marketing strategy, you might find this explainer by Hubspot helpful, or this guide to building an ABM technology stack by Terminus.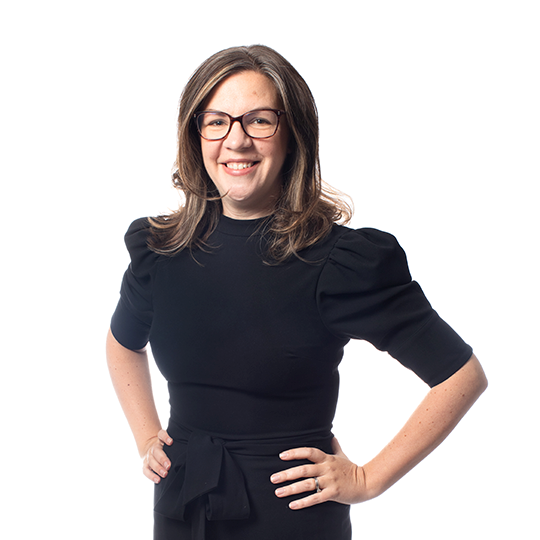 Whitney Mitchell
Whitney is a natural leader with a knack for creating something out of nothing. She's helped dozens of brands gain greater recognition for their causes and products in the digital world. Whitney's experience doing literally every job Beacon offers, from graphic designer to operations to web developer means she's not afraid to roll up her sleeves and dig in when it comes to helping Beacon's clients build the future of business.