In the past several years, the advertising platforms for Facebook, Linkedin, and Twitter have become increasingly powerful tools for marketers to reach new and existing customers. But the choices and configuration of ad campaigns can sometimes seem overwhelming and a little confusing to those new to social media advertising.
This month I had the opportunity to talk with Jordan Katz, a paid social media advertising expert who supports a variety of name brands in beauty industry including Aveda, Clinique, Estee Lauder, and MAC Cosmetics. Jordan has been a social media marketer for more than five years, and in that time has developed an in-depth understanding of the best ways to leverage social media advertising budgets -- especially on Facebook -- to achieve specific marketing goals.
I asked Jordan for some advice to help me, as well as other businesses who are looking to improve performance on paid campaigns, get a better understanding of what options brands have to target their clients and customers, particularly on Facebook, where most of her brands dedicate significant resources.
Q: Where should businesses allocate advertising spend on Facebook if their goal is to drive leads?
A: There are a couple of different tactics for driving leads. For B2C business, Facebook offers a unit specific to generating leads, "Lead Gen Ads".
Lead Gen Ads appear in the user's feed, and look very similar to general Link Ads which drive off site (to a company website or product page for example). The difference between Lead Gen Ads and Link Ads is that when the user clicks on the call-to-action (CTA) button on a Lead Gen Ad to "Sign Up" or "Learn More", the experience stays within the Facebook platform. A form will pop up, pre-populating the user's name and email address they have already provided to Facebook. This makes providing information to the brand or business seamless.
Businesses can customize the Facebook's Lead Gen Ad form to include fields for phone number, address and a multitude of custom fields. Additionally a "Context Card" can be placed between the Ad and the Lead Form. The Context Card is an additional step the users needs to go through, essentially giving them more information on what they are signing up for before they click "next" to submit their information. This helps to ensure quality leads. A Context Card may be used when a user is signing up for more information on a program or class for example, as opposed to just joining a brand's email list for information on deals and offers.
Q: Where can businesses allocate advertising spend on social media if their goal is generate awareness?
A: Almost all social platforms are capable of generating awareness, simply for the fact that they are social platforms. They key is to choose the right ad units and targeting. However, Facebook, Instagram and Snapchat are the leaders in the space; allowing brands to leverage video promotion at a large scale. Snap Ads, Sponsored Filters and Sponsored Lenses are on the rise for generating awareness in the millennial space, offering astronomical impression volume and brand recall. Facebook and Instagram also offer Reach and Frequency buying, which guarantees a specific reach volume at a set cost-per-thousand impressions (CPM).
Q: Facebook offers a variety of ways to target audiences on their network. For a company just getting started on paid social, how should they begin in using the audience building tools?
Whether a brand is new to social or not, the important factor is understanding the goal you are trying to measure.
A: Whether a brand is new to social or not, the important factor is understanding the goal you are trying to measure.
If you are a new company that needs to drive awareness that you exist, you should be using Broad Interest targeting and Lookalike Audiences.
If your company already has a strong following and your goal is to drive site traffic or ROI, "remarketing" is the best approach. You can do this two ways in Facebook: (1) upload a list of email addresses from your CRM or other customer lists, or (2) place a retargeting pixel on your website to create a Website Custom Audience of Facebook users who have visited your website during the past several months. Either way, you are creating audience groups in Facebook of users who are already familiar with your brand.
Q: If your goal on Facebook is to reach new audiences, how can you leverage Facebook's targeting?
A: Start with "Lookalike Audiences". Facebook can take a qualified Remarking Audience and create "lookalikes" based on demographic and interest factors.
The next step would be to identify who your target consumer is, and create a "profile" of that person using Facebook's advanced targeting tools. How old are they? Where do they live? What are they interested in? What are their buying habits? What is their relationship status or education level? What is their income?
Q: If your goal on Facebook is to drive engagement with your existing audiences, how would your advertising differ?
A: Engagement alone should never be a goal. Facebook studies have clearly shown that engagement itself has no correlation to business objectives. However, there are tactics that will generate "Earned Media Value".
Q: How is Facebook Live video being used by advertisers?
A: Facebook Live is not currently available for paid support, however it is on the road map. Advertisers have found ways around this by promoting Facebook Event Ads before the live chat, and putting paid support behind the Live video after it has ended.
Q: Facebook allows you to identify specific "goals" when you set up each ad campaign. How do those goals affect the way Facebook serves your ad?
A: The reason we are forced to choose an objective before setting up a campaign is to ensure you are using the correct ad unit and bidding model for what you are trying to achieve. For example if you identify your goal as Website Clicks, and try to create a video ad, you will get an error, because videos are not the most effective ad unit for that KPI. You should be using a Link Ad or Carousel Ad. If you're using video, your objective should be video views.
Choosing a different "goal" for your campaign effectively changes the bidding model that Facebook uses to determine how often your ad is shown and to which users, since many advertisers may be competing for the same user's attention.
Facebook's algorithm takes into account many factors including: what is your bid; are other advertisers who are bidding on the same audience bidding higher than you? What is your "relevance score"? A relevance score compares your ad to other identical ad units with similar target audiences and gauges how users are responding. It also takes into account your "Negative Feedback Score", i.e. are users have a poor experience with your ad unit? All of this can effect if your ad will be served, it is NOT based on bid alone.
----
If you're interested in learning more about best practices in social media advertising, you can listen to an upcoming interview with me on Social Business Engine coming in September. I'll also be speaking at CMO100 in New York on Sept. 1, Social Media Strategy Summit in San Francisco on Sept. 28, andloopthinkCXO Customer Experience Summit in Phoenix Jan. 15-18.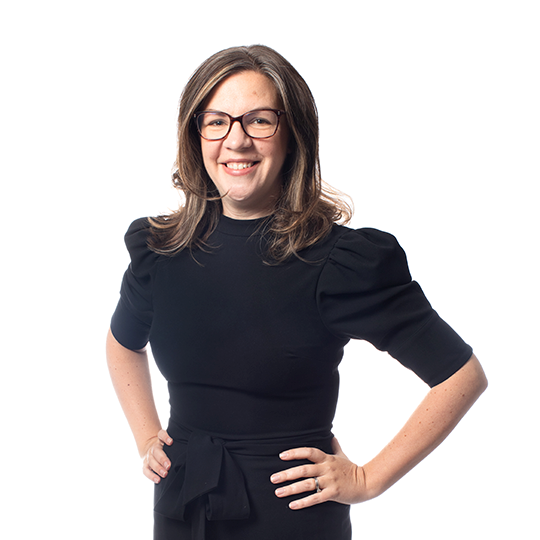 Whitney Mitchell
Whitney is a natural leader with a knack for creating something out of nothing. She's helped dozens of brands gain greater recognition for their causes and products in the digital world. Whitney's experience doing literally every job Beacon offers, from graphic designer to operations to web developer means she's not afraid to roll up her sleeves and dig in when it comes to helping Beacon's clients build the future of business.