The world of cybersecurity is constantly changing, led by innovators who are experts in their fields and masters of balancing privacy and security with competing priorities like customer experience.
But like most STEM fields, the gender gap persists in cybersecurity, with women making up only 25% of the industry's global workforce, and women filling only 17% of Chief Information Security Officer roles, the highest ranking executive role for security professionals. While the number of women entering the cybersecurity field is growing, the challenges they face are far from over.
So today, we're highlighting some of the impressive and influential women leaders whose success, tenacity, creativity, and strategic sense are helping propel the industry forward.
1. Zeynep Inanoglu Ozdemir
Title: Chief Marketing Officer, Palo Alto Networks
As the Chief Marketing Officer of Palo Alto Networks, the leading global security company, Ozdemir runs product marketing and demand generation teams for the Cortex product suite. She's delivered enviable bottom-line growth with Palo Alto Networks reporting a 25% growth of 2021 fiscal year revenue. She credits her success to her ability to synthesize macro market trends into understandable messages that resonate with customers.
2. Sandra Wheatley
Title: Senior Vice President of Threat Intelligence and Influencer Communications, Fortinet
Wheatley has held her position with Fortinet for the last six years and shows no signs of slowing down. With over 20 years of experience in holistic marketing and communications, Wheatley is responsible for Fortinet's; threat intelligence, customer marketing, security academy, veteran's training programs, and influencer communications. Before joining Fortinet, she led communication functions for Cisco, NetApp, and AMD. Wheatly is passionate about improving STEM learning and was even a founding board member of US2020, a White House initiative to increase the pipeline of STEM workers in the U.S.

3. Krista Todd
Title: Chief Marketing Officer, NortonLifeLock
Todd is responsible for global corporate and employee communications, public relations, brand marketing, corporate marketing, crisis communications, and investor relations at NortonLifeLock. She has more than 15 years of leadership experience in the tech industry including serving as the Vice President of Global Communications at Logitech, where she led communications strategy in over 40 countries. Her leadership style is collaborative, helping her team improve efficiencies and achieve incredible growth.
4. Ayelet Biger-Levin
Title: Senior Vice President of Global Marketing, BioCatch
BioCatch is the market leader in behavior biometrics, dedicated to improving the customer experience by distinguishing between genuine users and criminals stealing data. She's moved up from product marketing at BioCatch because of her technical depth and understanding of cybersecurity, which can be unique among marketing executives. As the Senior VP of Global Marketing, Biger-Levin leads global communications, which are essential for BioCatch. Prior to working in global marketing, she was the Vice President of Product Marketing. She has worked in the tech industry for over 15 years and has a Master's in Information Systems Engineering from the Israel Institute of Technology.
5. Michelle Dufty
Title: Chief Marketing Officer, Flashpoint
Dufty is committed to making the world a safer place through her work at Flashpoint which is poised for huge growth in 2022 and beyond. Flashpoint is a dark web intelligence company you won't read or hear much about, which makes Dufty's job extra interesting and difficult. Although she is relatively new to cybersecurity, she is already known as an accomplished leader who will continue to maximize Flashpoint's growth in keeping with its brand integrity. I know from personally working with Dufty that her success is attributable to her effective communication and strong business sense.
6. Cindy Zhou
Title: Chief Marketing Officer, SecurityScorecard
Zhou is known for marketing transformation at many technology companies including IBM, Emptoris, and Rivermine. She has more than 18 years of experience in marketing and sales operations. She has won an abundance of awards including the 2019 and 2020 DCA Live's Star CMO Award and the 2021 CMO Club's CMO Customer Experience Award, highlighting her accomplishments in the marketing industry. Zhou is also a trusted voice and has been quoted in over 100 articles featuring topics like marketing, sales, and trends. She recently left a two and a half year tenure at LogRythymm to join SecurityScorecard, continuing her focus on improving cybersecurity companies.
7. Megan Marks
Title: Chief Marketing Officer, Orca Security
Marks is a global marketing leader that consistently has a tremendous impact on her company through integrated marketing. She has held various leadership roles for more than a decade. Currently, she serves as the Chief Marketing Officer for Orca Security, an agent-less cloud security company that prioritizes alerts so users can avoid alert fatigue. Throughout her career, Marks has received awards recognizing her achievements in integrated marketing. She also won the "Global Game Changer" award from Siemens where she was the Vice President of Marketing and the Director of Global Marketing.
8. Mika Yamamoto
Title: Chief Marketing and Customer Experience Officer, F5
Yamamoto strives to "leave things better than they were before" which explains her high success rate as a business leader. Prior to F5, Yamamoto was the Global President of Marketo which has been acquired by Adobe. She has also held leadership roles in other notorious companies including Amazon Books, Microsoft Windows, and Accenture.
9. Tarah Cammett
Title: Chief Marketing Officer, Silverfort
Cammett has a history of successfully building sales and marketing processes from the ground up. Prior to Silverfort, she was the Vice President of Marketing for Immersive Labs where she led efforts to establish the company in the cybersecurity industry, positioning them as the world's first Human Cyber Readiness platform. She has overseen numerous rebranding efforts for other cybersecurity companies including Carbon Black, keeping companies up to date with the newest cybersecurity trends. Cammett credits her success to her open-mindedness and adaptability.
10. Danelle Au
Title: Chief Marketing Officer, Ordr
Au currently leads efforts to bring global awareness to Ordr, the leader in IoT and connected device security. In her 20 years of cybersecurity experience, Au has developed a strong understanding of malware protection and the importance of a unique story to differentiate companies. She was also the co-founder of a high-speed networking chipset startup for data flow management, the co-author of an IP communications book, and was the director of security solutions at Palo Alto Networks.
11. Mary Chaney
Title: Chief Executive Officer and President, Minorities in Cybersecurity
Chaney is one of the tremendous leaders paving the way for marginalized voices in cybersecurity. Her company, Minorities in Cybersecurity, focuses on leadership and career development for minorities, creating the next generation of cybersecurity professionals. She provides resources for navigating the challenges of advancing in the industry. These resources include creating networking opportunities, developing essential skills, and career mapping. Chaney herself has mentored dozens of women of color.
While Chaney has elevated women's voices and increased the number of historically excluded individuals in the cybersecurity industry, there is still much work to be done. Groups like the Cyber Collective and Blacks in Cybersecurity are both led by women of color, and I hope you'll check them out and use their resources when advertising your next hire. With more than 53% of cybersecurity organizations reporting a talent shortage, it's past time to tap more diverse wells when it comes to recruiting employees.
--
As the leader of a fast-growing B2B digital agency that works with a number of cybersecurity firms, we enjoy meeting and talking with all leaders who are shaping the future of cybersecurity this year and beyond. Do you know someone whose work we should be highlighting? Let us know, or contact us to find out more about how we can work together to raise the profile of your company's products and services.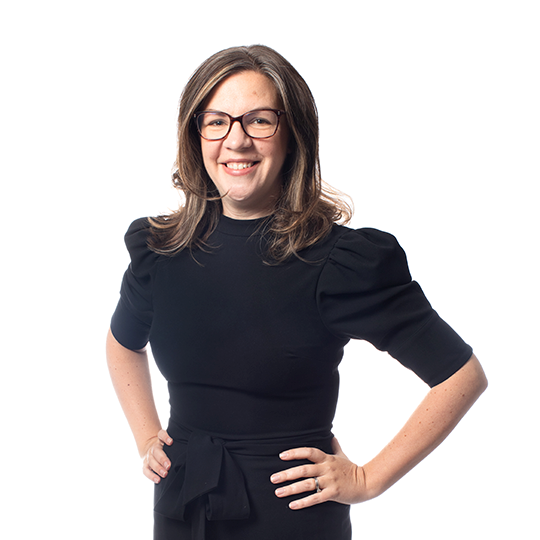 Whitney Mitchell
Whitney is a natural leader with a knack for creating something out of nothing. She's helped dozens of brands gain greater recognition for their causes and products in the digital world. Whitney's experience doing literally every job Beacon offers, from graphic designer to operations to web developer means she's not afraid to roll up her sleeves and dig in when it comes to helping Beacon's clients build the future of business.