Ready for a little CRM showdown? We get asked about the best customer relationship management (CRM) solutions a lot. There are a number of options out there, all with their pros and cons, of course, but two that we are often asked to compare are HubSpot vs Salesforce.
Salesforce is probably the most well-known CRM out there, but HubSpot is actually much more powerful than many realize. As you do your research and talk to your peers, you may have heard some of these common objections to HubSpot. Do they hold up under scrutiny? Keep reading and we'll let you decide.

"My organization will outgrow HubSpot."
As someone acquiring a new software that is integral to your business, it's an important question to ask. Is this tool a short term solution or a long term solution? How painful will it be to switch if we "outgrow" this software? Should we "bite the bullet" and invest in a more expensive solution in the short run, so that we don't have to make a painful transition later on down the road?
We've heard many marketers lament that they are outgrowing their current solution, whether it's HubSpot, Pardot, Marketo, ActiveCampaign, SharpSpring, or Mailchimp. In some cases, they may be absolutely right — not every solution offers what your growing team and company may need. But other times, it may be a matter of re-organizing and "spring cleaning" your current solution and learning how to update or upgrade your current usage of the tool. If your organization has used any CRM or automation tool for more than two years, you're likely in need of a major clean-up. Spending time organizing files, updating naming conventions, deleting unnecessary automations and rules, and merging or removing duplicate records can all go a long way to feeling like you're back in control of your CRM.
But can HubSpot really handle the growth of a company from five employees to 500 employees? Can it handle a globally distributed sales team across four continents operating with multiple currencies? The answer is (now) emphatically, yes. With the expansion of HubSpot's CRM Enterprise features, they have quickly closed the gap between some of the common Salesforce value propositions and their own. For instance, until the last year, some common enterprise requirements were not available in HubSpot. Now, they are not only available, but much easier to implement, and include:
Partitioning records and content to only some parts of an organization
Permissioning users, groups, and teams with more granular rights
Integrating with key security features like SSO
Advanced custom reporting on multiple record types
Advanced field types like calculated fields, hierarchies and more
Custom deal pipelines and handling of multiple currencies
"HubSpot sacrifices best-of-breed for an all-in-one approach."
Many marketing and sales operations leaders take the approach of building a "best-of-breed" tech stack rather than opting for an all-in-one solution, like HubSpot. The challenge, however, to our operations teams is connecting a disparate set of technology tools with APIs, "Zaps," and syncs, and then reporting on each platform in an integrated way. This often leads to marketing operations teams (and your agencies!) spending a great deal of time troubleshooting errors with data syncing between tools or managing integrations, rather than dedicating that time toward improving marketing outcomes.
There is certainly some truth to the argument that all-in-one solutions can't be the best solution for everything. Afterall, if you have a single point solution software (for instance a calendar booking tool) how can HubSpot's integrated solution compare to a company that is just dedicated to that one feature? In most cases, the fact that a company is solely dedicated to one solution also leads to higher prices for that single feature. But as long as the core business needs are met with the integrated solution, then you really have a heavy trade-off between two options:
Spend valuable time and resources connecting disparate pieces of software so that we can take advantage of solutions with 20 percent better features or functionality OR
Allocate more resources to implementing marketing actual programs, and take advantage of an integrated solution that solves for our core business needs at a lower cost.
To us, the pertinent question to answer is whether or not the single point solutions you are using offer meaningful business improvements that are above and beyond what you get by using an all-in-one solution like HubSpot. And, is the cost of maintaining integrations between your platforms considered as part of that calculation on whether those point solutions are worth the added cost?
"I will still need Salesforce, even if I use HubSpot for Marketing."
If you consider Salesforce the "best of breed" CRM, then you might also have the perception that HubSpot is a "best of breed" for marketing automation, so you'd want both tools if you're building your "dream tech stack." But, in our opinion, HubSpot is a rare software solution that crosses the divide into the best-of-breed CRM tools in a way that Salesforce simply can't compare when going the other direction.
Thinking of HubSpot as just another marketing automation tool on par with Marketo, Pardot, or Eloqua is soooo 2018.
Salesforce offers two options for marketing automation solutions, the Salesforce Marketing Cloud, which is geared toward B2C business, and Pardot, which is geared toward B2B businesses.
So isn't Salesforce an all-in-one solution too? While they do try to position themselves as an ecosystem similar to HubSpot, the databases for each of their marketing solutions still separate from the CRM, which causes just as many syncing issues as you would have using HubSpot and Salesforce or Marketo and Salesforce.
"My Sales team already knows Salesforce, and I don't want them to learn a new system."
Sure, learning a new tool can be a major lift, but if you are confident and understand the benefits and can get your team to buy-in, the transition doesn't have to be anything other than smooth. In comparison to Salesforce, HubSpot's user interface (UI) is much more intuitive, making it faster and easier to complete day-to-day tasks. HubSpot also follows the same basic principles, so there is less of a learning curve than you many think. And here's a big gamechanger: HubSpot eliminates the difficult-to-teach process of converting Leads to Contacts. It's a timesaver and headache reducer for your current team and any team members you onboard later down the road.
"HubSpot doesn't work for e-commerce."
At one point, yes, you could have made this statement without blinking an eye. Now, though, HubSpot has robust ecommerce integrations with Shopify, BigCommerce, and WooCommerce, major ecomm giants. If you're a Shopify user, there's a HubSpot built integration, so you can be confident you'll be able to sync up your store with your overall sales and marketing strategy. With HubSpot's ecommerce integrations, you'll get the HubSpot magic of personalization and optimization of your content and marketing efforts to deliver a customized online shopping experience. Key features like automated quotes, product libraries, and integrated signatures are also available to boost your success.
There you have it! HubSpot has seriously stepped up its CRM game, giving solutions like Salesforce a run for their money. As you make your choice, remember to weigh your business goals and where you see your company moving in the next few years. And if you would like to discuss the HubSpot vs Salesforce question any further, send us a message or give us a call. We have a landing page and form for that.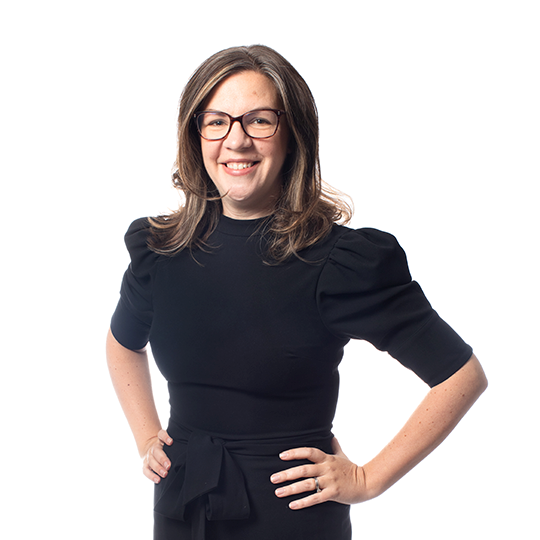 Whitney Mitchell
Whitney is a natural leader with a knack for creating something out of nothing. She's helped dozens of brands gain greater recognition for their causes and products in the digital world. Whitney's experience doing literally every job Beacon offers, from graphic designer to operations to web developer means she's not afraid to roll up her sleeves and dig in when it comes to helping Beacon's clients build the future of business.