You've got great ideas, expert advice, and valuable information to share. But is your B2B content marketing strategy working hard to sell your product, or is your content just fading into the ether?
Your content should accomplish (at least) two things: 1) It gets read. 2) It gets results.
With the B2B atmosphere constantly changing, it's important to stay at the top of people's minds as well as their search results. How? If you follow these five rules for success, your B2B content will start working just as hard as you do.
1. No Matter What You've Been Told,
B2B Content
Is About Quality, not Quantity
Yes, having fresh content is great. But writing poor quality blog posts just for the sake of getting something out there isn't going to do you any favors. In fact, one authoritative, informative piece of B2B content can do more for your organic traffic than 10 mediocre posts combined. If your B2B blog strategy is not adding value, it's taking it away.
Consider investing more time and effort into the creation of a few, strong pillar blog posts. What's a pillar post? It's a long form piece of content, around 2,000 words, that offers extensive information about a specialized topic — aka the stuff you really, really know about. If you're an authority on something, put it all out there. Then, you can use that pillar post to inspire smaller, bite-sized pieces of content later, and link back to your pillar.
Knowing that time spent on your site is a key metric of success for your inbound marketing strategy, it's not about how often you write, but the quality of what you write. That is to say, it's far better to have one visitor find value in a longer pillar post than have five visitors quickly click around your site and learn nothing.
2. Don't be Afraid to Repurpose Previous Content
Nothing to say? Don't be so sure. If you revisit your past projects, you'll find a wealth of information ready to be transformed into high-performing B2B content. With a few adjustments, your previous research, presentations, case studies, and whitepapers can really sing. Here are a few good examples:
If you've done a webinar, distill it down into a shorter blog post that relays that information in written format.
If you've written a sales presentation that explains a service, add images and incorporate it into your website to improve readability and help illustrate your product.
If you've recently created a white paper, pull out the major findings and create an infographic that makes the information more digestible on social media channels.
These are just a few examples, but the possibilities are endless. What have you worked on lately that contains valuable information? Don't let all that hard work go to waste. Dig it up and bring it back to life.
3. Align Your
B2B Content Marketing Strategy
to Your Target Buyers
Before brainstorming topics, it helps to work backwards. Start by considering the value that your B2B business offers your customers. What information do you have that they need? Which products or services will help them succeed and why?
Use these answers to inform your B2B content so that each and every piece you put out there is valuable and rewarding. If you position yourself as an expert, then deliver on that promise with quality information and advice. If you offer a product or service that solves a problem that your readers have been searching for, use your content to explain how it works.
Remember, you've got what they need, so be sure your content reflects that. Off-topic issues, even if they're buzzworthy, do not add value to your business.
No matter what, don't forget to drive visitors to a mailing list, contact page, or purchase path by placing a strong, clear CTA at the end of your content (or even mid-way through).
4. Learn a Little SEO (aka: Use the Right Keywords)
Don't assume you know what people are searching for. In some cases, using a synonym could increase your search results tenfold. Take the time to understand keyword search volumes before you start writing.
Try using tools like Ahrefs, Moz, or Google Keyword Planner to get a better idea of the search volumes of different terms and to uncover the phrases people are actually using. It doesn't take long, and it's well worth the effort.
While you're at it, don't forget to always use the keyword you're optimizing for in your content's title, meta title, meta description, URL, and headings. To build more authority within your own content, find opportunities to link to internal pages. It will give all your content a big boost. Little tricks like these make a world of difference, so bookmark this page for later and try it for yourself.
5. Know When to Ask for Help with Your
B2B Content
Not everyone is a professional writer, but it's not the end of the world. You may have amazing ideas and information, but need a little help translating it into jargon-free writing that people can digest. Always be sure to ask for honest feedback on your content and invest in a skilled proofreader before posting. The quality of the writing you put out there speaks volumes about the professionalism and capability of your business.
Looking for some writing help? The Beacon Digital Marketing team is made up of experienced copywriters and B2B marketing professionals who can make sure that your B2B content is polished, engaging, and SEO-friendly. If you're interested in revamping your website or your B2B blog strategy, give us a call today or shoot us an email to learn more.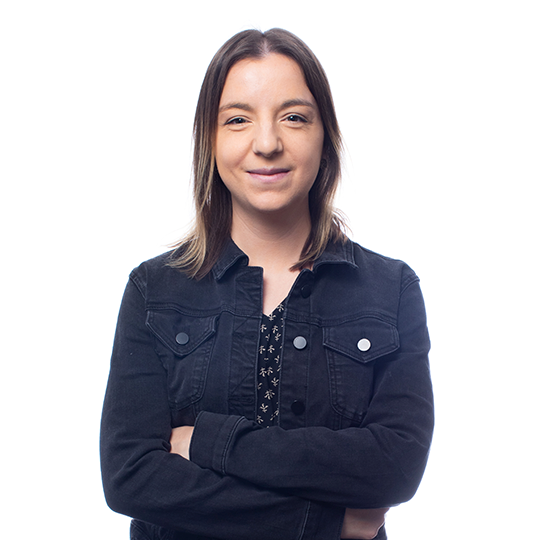 Nicole Spewak
Nicole is Content Director at Beacon Digital Marketing, where she leads a team of writers, editors, and strategists in creating effective content strategies backed up by compelling content that gets results. She specializes in creating content for the fintech, cybersecurity, and risk and compliance industries.