B2B companies face some unique challenges when it comes to growth. Establishing a viable product at the right price point that solves a real customer problem is only the beginning of the long road ahead to a successful business. Luckily, in today's digital landscape, there are a lot of ways B2B companies can leverage technology to find their ideal customers. Unless you're selling low-tech navigation equipment to off-the-grid cave-dwellers, you can reach your customers online in a systematic and scalable way.
Two key questions that many B2B companies need to ask themselves, however, are:
When is the right time to hire internally and when is the right time to hire external support?
There's no right answer; every company and the composition of skill sets on any team is different. In our experience, however, there are some scenarios where it makes more sense to hire an agency to support you, rather than hiring internally. We've outlined a few situations below, and welcome your own stories to add to the conversation!
Scenario 1: The One-Person Marketing Team
Many senior marketing executives find themselves operating a one-man or one-woman show, with a demanding leadership team and a limited budget. When there's no budget or appetite to hire a full marketing team, a results-driven digital agency can be an effective option to add a variety of skills and deliverables to your team without breaking the bank.
A well-rounded digital agency can bring you the combination of skills you'd find in hiring a web developer, a graphic designer, a search optimization expert, a paid-search or paid-social advertising specialist, and a content marketer or writer.
You may be thinking: Can't I just hire a PR agency to do both media outreach and digital?
If you hire a PR agency to do digital, expect digital strategy to be in the backseat. It's generally not their bread and butter, and you'll be disappointed in the execution and the results. While PR is often critical to the foundation of a marketing strategy, many PR agencies struggle with bringing digital expertise to the table for their clients.
We've found that one-person marketing teams can struggle with how a digital agency or digital skillsets fit in with a PR agency. If you're a small one-person marketing team, chances are you don't have the budget for the premium agencies that bring everything to the table. (Even then, many of the large, traditional PR agencies still don't do digital well).
One strategy for reaching PR and digital marketing goals is for the internal senior marketing leader to handle PR and the development of a corporate marketing strategy, while using a digital agency as the "arms and legs" for execution of the strategy and overall reporting. This can be an effective division of labor for many companies in their early stages of growth.
Scenario 2: The Inbound Experimenters
Sometimes the internal B2B marketing team has developed digital capabilities that are quite strong. With many SaaS companies in particular, we see our clients hire internally for a variety of speciality roles like a web developer, customer acquisition expert, and/or social media expert. Many times they've also hired several internal sales people who are prospecting and following up on the inbound leads they've started to generate.
A B2B digital agency can be a great addition to fill in gaps on these more advanced marketing teams while professionalizing the inbound marketing strategy. In these instances, an agency can take on the role of ensuring your marketing technology stack is well-integrated and complete, bridging Google Analytics, Salesforce, and automation tools like Hubspot, Pardot, Marketo or Eloqua. You can also use a digital agency to create an effective mix of gated assets for your content marketing strategy, targeting buyers in the right stage of the buyer journey and appealing to the challenges they are a facing.
Most importantly, when you're in the early stages of building a content strategy, it's important to lay the foundation for testing a variety of inbound lead generation sources so you make the most of a limited budget. From search marketing to paid social channels, programmatic, content syndication, organic, partnerships, referrals, email marketing and outbound cold calling, a digital agency can set up the reporting you need to make effective decisions about your marketing spend and attribute sales to the right efforts.
Scenario 3: The Scaling and Growth Stage Company
Even if your company has built an entire digital marketing team internally, you can still find a great use case to hire a digital agency for additional support. In fact, a B2B digital agency can bring the necessary discipline and creativity to take a functioning internal digital strategy to a level that simply crushes competition.
When you're managing more than $10k/month in digital advertising spend or your lead generation goals are exceeding hundreds per month, an internal team can find it hard to keep up between the demands of internal meetings, shifting priorities, and management responsibilities.
A digital agency adds the experience of optimizing ad campaign spends that are far greater than many internal teams may be used to. This particularly applies when a company has experienced a lot of growth but hasn't brought on new experts from outside. Digital agency partners can bring a much needed perspective from inside and outside your industry to apply best practices to your company's goals.
Scenario 4: The Complex Corporate M&A Deal
Successful companies we work with are no strangers to acquiring companies as they scale, or to being acquired themselves. These situations can be especially tricky from a digital marketing perspective, and are ripe opportunities to hire a professional B2B agency to see you through.
If your company has just acquired another company, you have many digital projects to add to your marketing team: consolidating social media presences, consolidating websites, integrating team members and functions, and merging your corporate identities. These are not simple tasks -- you have to be wary about losing valuable organic traffic with a botched website migration, or losing valuable social media audiences by not bringing people over methodically to your new channels.
A B2B digital agency can map out and execute the right steps to make sure effective content is maintained and integrated with the acquiring company's overall content strategy. From an SEO perspective, an agency serves to incorporate how the acquired brands are stacking up for search results, where to make improvements, and how to maintain success in your keyword strategy.
There are a variety of business scenarios and growth phases for which a B2B digital marketing agency can take a company's digital results from good to great. If you're interested in putting a results-driven digital strategy to work, we'd love to chat. Reach out to me directly at whitney@beacondigitalmarketing to set up a free consultation of your digital marketing strategy.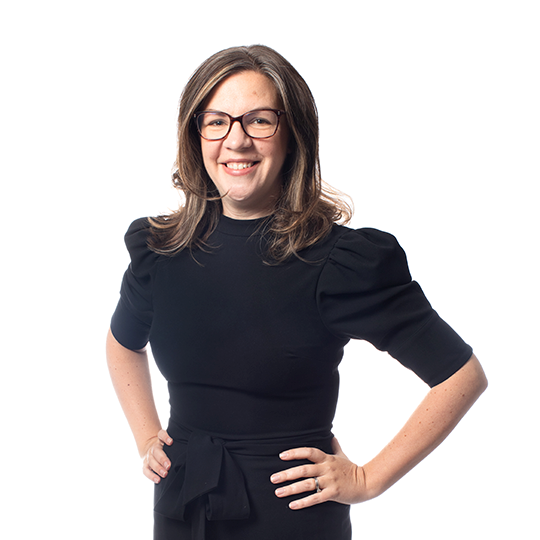 Whitney Mitchell
Whitney is a natural leader with a knack for creating something out of nothing. She's helped dozens of brands gain greater recognition for their causes and products in the digital world. Whitney's experience doing literally every job Beacon offers, from graphic designer to operations to web developer means she's not afraid to roll up her sleeves and dig in when it comes to helping Beacon's clients build the future of business.