The best way to keep your B2B marketing campaigns fresh and effective is to be aware of the latest B2B marketing strategies. Easier said than done, of course. Trends in digital marketing change by the minute, and not all developments are as effective as the next. As we look ahead to 2020, here are five ways you can improve your B2B marketing efforts and supercharge your strategy in the year ahead.
1. Upgrade Your ABM Strategy with Conversational Marketing
Account based marketing (ABM) through chatbots? You heard us. Intelligent chatbots aren't a passing fad; they're a way to better engage with your target accounts in real-time. According to Twilio, 9 out of 10 consumers want to use messaging to communicate with businesses. Messaging is fast, convenient, and personal, which is why customers love it. Conversational marketing, spearheaded by companies like Drift, is excellent for ABM campaigns because it involves using targeted messaging to nurture and convert. People who would never fill out a form will readily engage with a chatbot. They get instant answers to their questions, and with specific flows set up, you can lead prospects directly to a relevant content download or an offer to schedule a meeting. Chatbots help to qualify leads so your sales is talking to ideal buyers, which in turn shortens the sales cycle.
2. Give Your Email Strategy a Refresh
Email remains a huge marketing avenue for B2B businesses, but without regular testing and updating, your email campaigns will steadily decline in performance. About half of companies in 2019 said they rarely, or never, A/B test triggered or transactional emails. Yet recent research from Litmus shows that brands that always include an A/B test in their emails generate an ROI of 48:1, compared to an ROI of 35:1 for those who never test them. The best place to start A/B testing is the subject line. Keep an eye on language, subject line length, and personalization to see what is driving the most opens with your particular audience.
In addition to testing content, review and refresh your email template and spam filters — often! No time for a total email overhaul? The majority of B2B email marketers are in the same boat, only reviewing their automated email templates about once a year. However, spam filters and algorithms are constantly updated to catch and hide automated emails from companies like yours. To offset this risk and reach as many customers as possible, it is now essential to review and refresh automated emails at least once every three months. The same goes for spam filters. If you start slacking on spam filter tests, those emails you've been working so hard on may never make it to their inbox at all. Tools like Blaze Verify integrate with common marketing automation platforms, like HubSpot, to continually test your email database for spam traps and bad emails.
With design standards and email clients changing often, an email that looks good today could easily be broken tomorrow. Making it a point to frequently review and evaluate your email campaigns will help keep them fresh and performing well.
3. Invest in Organic Search, Not Just Paid Ads
Ranking on the first page of a Google search for keywords related to your business is a huge driver of leads for B2B businesses. This was true last year, and it's still true today. Since 80% of people scroll right past paid search results, it's important that your business also show up organically. And the higher up the better. The top five search results for a keyword on Google get 70% of the clicks, often leading to quality leads with a significantly higher conversion rate than outbound contacts.
4. Personalize Even More
Personalization is a hot topic that never seems to cool down. Any why should it? An impressive 77% of consumers have chosen, recommended, or paid more for a brand that provides a personalized service or experience. And today, we have so much data on our target customers that personalizing email messaging, event communications, social media, surveys, and experiences has become easier than ever. This year, it's time to go further and brainstorm new ways to utilize data, like website activity, job title, and location, to create targeted strategies and tactics that feel relevant and useful to your recipients.
5. Get Serious About Instagram
Think B2B marketing is exclusive to LinkedIn? Even though LinkedIn continues to be the most-used platform for B2B professionals, at the end of the day, your target audience is logging onto Instagram just like everyone else. According to TrackMaven, Instagram produces 20 times more engagement than LinkedIn for B2B brands. And as the most engaged with social media network, Instagram is a powerful place to connect with your audience, show off your workplace culture, and link to valuable content. Brands who learn how to use this platform correctly will have an advantage over the competition in the coming year.
Looking for more information on building a winning B2B marketing strategy for 2020? We're here to answer any questions or point you in the right direction. Just fill out the form below and one of our digital B2B marketing experts will get back to you.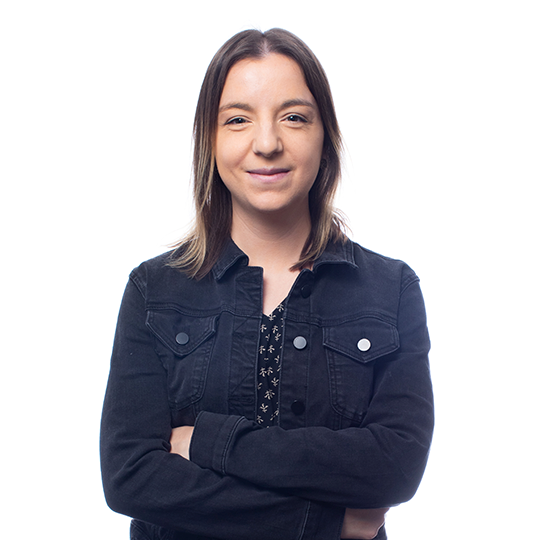 Nicole Spewak
Nicole is Content Director at Beacon Digital Marketing, where she leads a team of writers, editors, and strategists in creating effective content strategies backed up by compelling content that gets results. She specializes in creating content for the fintech, cybersecurity, and risk and compliance industries.