I'll jump right in, since we all know the context of the conversation by now.
I've been having dozens of conversations with clients about their marketing plans now that business operations have all moved almost entirely online. Marketing calendars for the first half of the year have changed quickly: no corporate business development events, no private dinners for your prospects, no cool experiential events to build brand awareness. And what do we do about direct mail when our customers have shut down their offices?
We're all having to adapt quickly since the pressure is still on to meet revenue targets that were set without the context of a global pandemic. We know that digital channels are going to be all the more crucial to your ability to maintain revenue growth and continuity during the weeks (and possibly months) ahead.
I wanted to share a few ideas from our team as you think about adapting your marketing plans, and of course, if we can help you execute, you can email us any time.
In-person events can become online events
Online roundtables, exclusive online panel discussions, and ask-me-anything open forums are just a few formats you can use to mix it up. You can even do social events and happy hours that are more casual. If you don't already have a subscription to Zoom, GoToMeeting, or another online meeting tool, now is the time to get a subscription. In fact, a lot of these software companies are offering great promotional deals to try out their service.
If you've never created or promoted an online event before, here are a few tips:
Give yourself time to build great content that's interesting and engaging for your target audience
Allow about 2-3 weeks of promotion time to get the word out about your event -- that means daily social posts and some paid ads promoting the event to your target customers; you may also want to partner with other groups who will distribute your event notice via email
Inviting guest speakers with a large social following is a great way to expand the reach of the event
Do a practice run of your event to ensure everyone is comfortable with the event flow and the technology
Direct mail can still work, but think about asking for a home address
With business offices mostly closed for the next month, and possibly longer, this could complicate your direct mail approach if you're leveraging databases of office locations from ZoomInfo, Discoverorg or similar sources. Direct mail could still work into your strategy, but you could think about asking for a verified home address before you drop something in the mail. This could be in the form of a landing page on your website with a simple confirmation form. In absence of that approach, we'd consider postponing your direct mail sending until most people return to their offices.
Content production can be tailored with COVID-19 in mind
We're seeing emerging themes in search traffic during the pandemic. Here are a few searches that have exponential growth over the past week that could relate to how you position your business and services:
As an example, the above and below charts courtesy of Google Trends, show some breakout searches including "business continuity" consulting firms, services and software solutions.
With most service and software companies, you have the benefit of service delivery in a fully remote environment, helping businesses to achieve greater business continuity in a challenging time -- are these features you can promote? We're also happy to provide additional insights into search trends for your specific business if and when more data is available from Google.
Adjust your email nurtures and social media posts to add context, but don't over do it
Some businesses will naturally have more context for talking about COVID-19 than others, but if you don't have something to say or offer around it, don't try to stretch it. At the very least, just make sure your content isn't "tone deaf".
Existing email nurture campaigns should all be audited to make sure the tone of emails doesn't feel "off" in the context of our global pandemic. Email nurtures can be easily forgotten since it's something you don't revisit often, and they are being sent daily and hourly without direct oversight. Worst case scenario, you may not remember an email that had a cute, but now insensitive use of a subject line like: "Our software tool is so amazing, it's infectious!". Yikes!
Consider adding some video and audio storytelling to your social feeds and website
Video can be a great medium and doesn't have to come at a high production cost or necessitate in-person video shoots. Check out this
great YouTube tutorial
on how you can record a terrific presentation with a talking head picture-in-picture just using QuickTime Player, available on any Mac for free.
For more high quality outputs like animated explainer videos, these can be produced entirely through online collaboration and don't require in person meetings or on-site production work. Now may be a good time to kick-off such a project, since they typically take 6-8 weeks from start to finish. If you need a partner,
we can help
!
Podcasts
are another medium that you can consider exploring as people turn to entertainment sources they can do on their own rather than in large groups.
Consider free platform access or services for those affected
Several of our clients are finding ways to offer their own software platforms or services free for businesses and individuals affected by COVID-19. If this is feasible and makes sense for your company's product and services, it can be a major PR win, and a driver of new business when we all emerge from the social distancing measures that have been implemented around the globe.
How Beacon Digital is adapting
Ah, thanks for asking! For the time being, all of our employees are working from home until further notice. As many know, we were in the midst of planning an event to welcome clients to our new office space in Beacon, NY, along with some local talent networking events, which we have postponed to later in the year.
While we have the benefit of being a flexible and semi-remote workforce by our nature, we're not exempt from the impact that many other businesses, families and individuals are facing. Our team includes parents, hourly contractors, and many of us have parents and family members with medical conditions that make them vulnerable. Fortunately, we are not seeing a decrease in demand for digital marketing services -- in fact it feels a little like the opposite is happening.
That is reassuring for our own business -- but we know that this is an uncertain time for everyone, and that our everyday operations will be very different for awhile. The one thing that hasn't changed though is that we are still here to help support our clients. We hope that what we've shared here is a start to finding a way forward, together.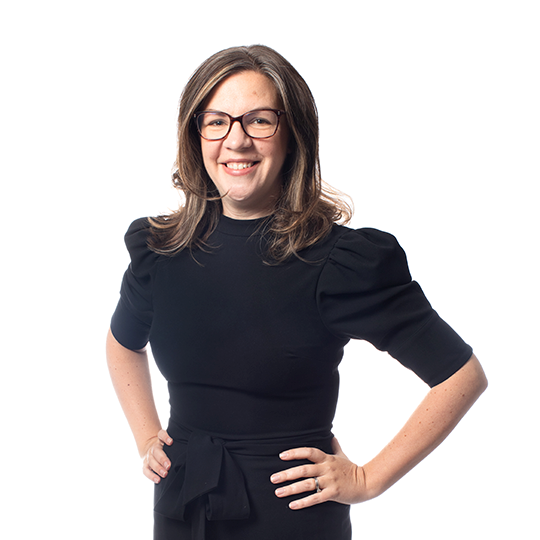 Whitney Mitchell
Whitney is a natural leader with a knack for creating something out of nothing. She's helped dozens of brands gain greater recognition for their causes and products in the digital world. Whitney's experience doing literally every job Beacon offers, from graphic designer to operations to web developer means she's not afraid to roll up her sleeves and dig in when it comes to helping Beacon's clients build the future of business.