The digital channels and tools we use on a daily basis provide us the opportunity to connect with our customers in new and engaging ways.
Back in 2013, Forbes called on B2B marketers to "get real about social media" and in the past several years video has taken off and chatbots are dominating our sales and marketing processes. With new opportunities always arising that allow marketers to connect with users on a different level, we're going to walk you through the most important and enduring digital channel you have, your website and B2B product and service pages.
It's true that B2B and B2C buyers are not one and the same. The B2B buyer journey is significantly different, and your product and service pages should reflect those realities. That means solving for the issues that surround traditional aspects of B2B sales such as:
Long sales cycles
Involvement of numerous stakeholders
The frequent requirement for extensive research prior to purchasing a product or service
Remember: as a B2B business, your website is one of the most influential tools you have to attract and build relationships with potential clients. B2B websites lead readers down the sales funnel to ideally, ultimately, convert; but this experience does not create itself.
What steps craft the ideal B2B website user experience? There are several best practices that can help B2B brands elevate their web presence and drive more conversions.
Features of the Best B2B Product Pages
Optimized for organic search
When you optimize for organic search, you increase the likelihood of attracting more visitors to your website along with the "right" visitors . Getting the right eyes on your product or services leads to higher conversion rates (more people visiting your website and actually making a purchase) and lower churn (the percentage of people who only take a peek at your content and then ditch).
Optimizing for organic search involves a number of short- and long-term practices. For product and service pages specifically, best practices include:
Perform keyword research

Identify terms or phrases people are likely searching for when they are looking for the particular product or service you offer. Use these as a baseline for deeper keyword research into what prospective buyers are actually searching for.
Focus on keyword difficulty (a number that helps you know how difficult it will be to rank for a keyword) and the monthly volume of searches for keywords.
Learn about localized keyword research and include local keywords if applicable.
Research your competition

What are your competitors ranking for? How can you compete or stand out from the crowd?
Check websites' domain authority

Implement keywords in your page copy

H1 and H2 headers are good places to start
Write meta titles, meta descriptions, and URLs that are helpful, succinct, and use your target keywords
Includes a clear value proposition
How long do you think you have to catch the attention of a prospect? As business strategist Daniel Nilsson points out, "the global attention span is narrowing, meaning that B2B sales and marketers likely have about three seconds to make a good first impression."
Value propositions clearly articulate why, exactly, a consumer would want to make a purchase from your brand instead of from a competitor. They are short, concise, and oftentimes pithy. It's not about saying what you do, but about the benefit you provide to a potential customer.
B2B value propositions, in particular, generally revolve around some combination of:
Cost-effectiveness
Ability to generate revenue
Offering a competitive advantage
Reducing risk
Offering security
Increasing agility
Increasing productivity
Uses prominent, well-placed CTAs with relevant offers
B2B brands should form call-to-action strategies that drive inquiries. Most B2B buyers will not make a purchase immediately after delving into content – they need to feel comfortable contacting your team to ask for help or talk shop.
Some CTAs are especially well-suited to the B2B sphere. If you're having trouble catching your audience's interest, try leading them towards:
Live product demos
Exclusive content
Product bonuses
Exclusive training and support
Prioritizes clarity – be straightforward
Yes, your company has many benefits to provide customers in a way that no one else can. It's natural to want to include as many of these features as possible on your product or services pages. Oftentimes, this leads to content or information overload that can turn visitors away or lose their attention quickly.
There's no need to cram your pages full of lists of every single thing included in your product. As long as you include the highlights, you can sprinkle in opportunities to dig deeper, including blogs, free or paid content downloads, webinars, or a variety of other resources. The idea, as always, is to focus on the benefits to the customer, pique their interest, and give them resources to find out more as they research and learn more about what your company can offer.
Tells a story
This advice is twofold: you should definitely include stories in your content, but you can also tell stories through the design of your web pages. Conversational marketing and ergonomic site design are powerful tools.
If you aren't sure which stories or anecdotes to share, look to your clients and team for inspiration. What are some of the questions your sales team hears most frequently? Try to let your readers in on stories that offer helpful answers to those curiosities.
Storytelling does have a place in B2B content – you just need to help get it situated. B2B content doesn't naturally appeal to readers' emotions. You can leverage stories as a means of connecting with your audience to form long-lasting relationships. It's also a good opportunity to cement your brand's voice.
Ensures good UX
Marketing B2B products and services can be difficult enough – do you really need your users to be confused by your site's structure, too?
Make sure your B2B product and service pages allow for the ideal user experience. User experience (or UX) plays a central role in converting readers to clients. The B2B customer journey can feel like a bit of an enigma thanks to its differences from the traditional customer journey. Many basic digital marketing practices, however, still apply. UX is one of them.
There are some key UX differences between B2C and B2B websites. These include:
The need for B2B content to support long purchase decisions
The need for B2B content to clarify information concerning compatibility, regulations, and integration
The need for B2B content to speak to both decision-makers/purchasers and actual product or service users
Uses visuals
There are a wealth of visuals that can help any website – B2B or otherwise – share information more effectively. If your niche is especially laden with jargon or complex ideas, now is a great time to leverage the power of:
Video to distill complicated concepts into a short, digestible format that's easy to consume, such as product explainers, demos, or expert interviews.
Animations to demonstrate simple movements and features.
Infographics and charts
Visuals help make describing complex B2B concepts much simpler. It's easy to improve your audience's buyer journeys with a few simple, helpful, and eye-catching visual additions.
Includes success stories and testimonials
There's no doubt that we all feel a little safer making a purchase that somebody else has condoned. If you can include success stories and testimonials (in video, written, or audio form), they can do wonders at pushing readers over the edge to sending in inquiries or making purchases.
There are a variety of steps that B2B brands can take to create effective and engaging product and services pages. If you're just beginning to build your B2B site, these tips will help you start out and get started on the right foot with readers and purchasers. If you're already established with a site full of content, we get it – none of us likes to double-back for work. Want some help? Get in touch with us today for our team's support in transforming your website.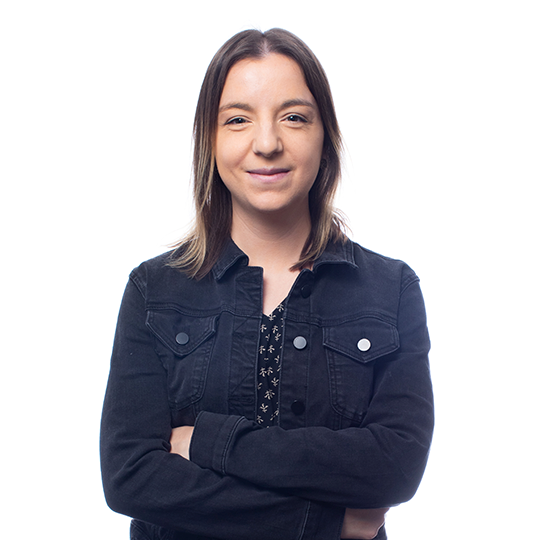 Nicole Spewak
Nicole is Content Director at Beacon Digital Marketing, where she leads a team of writers, editors, and strategists in creating effective content strategies backed up by compelling content that gets results. She specializes in creating content for the fintech, cybersecurity, and risk and compliance industries.