Crafting Digital Masterpieces: A Deep Dive into Our Award-Winning Projects
We're thrilled to announce that Beacon Digital Marketing has been recognized with not one, not two, but three Web Excellence Awards in five separate categories for our outstanding website projects! These 2023 awards are a testament to our team's dedication, creativity, and expertise in delivering top-notch digital experiences for our clients.
1. Revolutionizing Ocean Freight Intelligence: A Seamless Digital Experience
Award Categories:
Best Transportation Website
Best API Services & Platforms Website
James Fletcher, our Sr. Web Designer, shared his thoughts on the Xeneta project: "Designing for Xeneta was a journey of innovation. We aimed to create a digital experience that mirrors the company's forward-thinking approach to ocean freight intelligence. In addition, we designed our modules in light and dark modes to give our client the maximum flexibility for future pages. I think we nailed it."
We've had a phenomenal experience partnering with Beacon Digital. From strategic planning to technical execution, they ensured our project stayed within budget and on schedule. Most importantly, they delivered a website that seamlessly blends functionality with visual appeal. The resulting website has impressed our entire company, and we couldn't be more thrilled!
Joanne Marshall, VP Marketing, Xeneta
2. Empowering the Future: A New Era of Architecture & Engineering Leadership
Award Category:
Kirsten Trued, our Director of Web Production and UX Designer, had this to say about the Morrissey Goodale website project: "When it comes to M&A consulting businesses, it's crucial to have a website that effectively showcases their expertise and services. For the Morrissey Goodale project, we understood the specific needs of the client and aimed to deliver a digital platform that would truly represent their brand. One of the key challenges we faced was integrating the necessary technology to seamlessly support their consulting services. With our expertise in WordPress, we were able to build a robust and user-friendly website that not only met their needs but exceeded their expectations. Our team worked diligently to ensure the integration of technology, such as CRM systems and client portals, was seamless and intuitive for both the client and their users. We are proud of the result and how we were able to solve the specific technology integration challenges for Morrissey Goodale, ultimately providing them with a powerful online presence to support their consulting business."

3. Laundromat Technology that Makes Cents
Award Categories:
Best Startup Website
Best Corporate & B2B Website
Read more about the award
Derick Beauregard, our Director of Web Development, expressed his enthusiasm about the Cents project: "Working on the Cents project was a unique challenge. We wanted to capture the innovative spirit of the brand while ensuring a seamless user experience. I'm proud of what our team accomplished."
Key Elements of a Successful B2B Website Design
In the world of B2B, your website is often the first impression potential clients have of your business. It's crucial to get it right. Drawing from industry-leading sources, here are some elements that set apart successful B2B website designs:
Clear Value Proposition: Your website should immediately convey what you offer and why it matters. A clear and compelling value proposition can differentiate your brand in a crowded market.

Intuitive Navigation: A well-structured, user-friendly navigation ensures visitors can easily find the information they're looking for, enhancing user experience.

Engaging Content: Quality content that addresses the needs and pain points of your target audience can position your brand as an industry leader.

Responsive Design: With the variety of devices used to access websites today, a responsive design ensures your site looks and functions perfectly on all screens.

Effective Call-to-Actions (CTAs): Clear and compelling CTAs guide visitors towards taking the desired action, whether it's signing up for a newsletter or requesting a demo.

Trust Signals: Testimonials, case studies, and industry certifications can build trust and credibility with potential clients.

Optimized for Search: An SEO-optimized website increases visibility on search engines, driving organic traffic and potential leads.

Fast Loading Times: In today's fast-paced digital world, users expect websites to load quickly. A slow website can deter potential clients and harm your search engine rankings.

Analytics and Tracking: Implementing analytics allows you to track user behavior, providing insights to continuously improve the user experience.
By integrating these elements, you not only enhance the user experience but also drive engagement and conversions, maximizing the ROI on your website.
---
We're incredibly proud of these achievements and the recognition from the Web Excellence Awards. It's a reflection of our commitment to delivering exceptional digital experiences. As we continue to push the boundaries of what's possible in the digital realm, we're excited about the future projects and challenges that lie ahead.
Thank you to our clients for trusting us with their visions, and to our dedicated team for turning those visions into award-winning realities!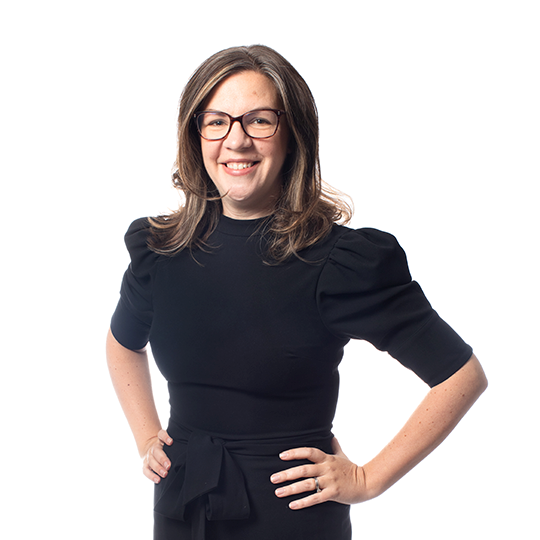 Whitney Mitchell
Whitney is a natural leader with a knack for creating something out of nothing. She's helped dozens of brands gain greater recognition for their causes and products in the digital world. Whitney's experience doing literally every job Beacon offers, from graphic designer to operations to web developer means she's not afraid to roll up her sleeves and dig in when it comes to helping Beacon's clients build the future of business.