Growth-mode companies in Fintech, Cybersecurity, Healthtech, Edtech, and B2B SaaS trust us to deliver measurable results through integrated digital campaigns, website design and development, multimedia content production, marketing technology, creative branding, and more. How do we do it? Enter our Account team.
The Account team is the largest team at Beacon Digital with 13 people: four Account Executives, six Account Strategists & Managers, and three Account Directors (our fearless leaders). To give a sense of how relationship-driven our experts are, the account team spent over 3,000 hours on client calls in 2021!
We sat down with our Account Directors, Dan Seitz, Shauna Graham, and Loni Jacobsen, to find out more about Beacon Digital's approach to all things strategy, communication, and success.
What are the keys to helping our clients succeed?
Dan: At Beacon Digital, strategy reigns supreme. To us, a great strategy is smart, measurable, and drives continuous improvements to the bottom line. This means regular communication between our team and our clients so that we can stay on the same page and ensure that we're using all available resources efficiently.
We're never afraid to ask "why?". Simply because something has been done a certain way before doesn't mean that it's still the right method, so we're constantly questioning to better understand what success looks like and how we carve the right path to achieve it.
The other major key to helping our clients succeed is to fully immerse ourselves in their business and industry. Our clients come to us as their strategic B2B marketing partner because we specialize in their unique sectors -- understanding the ins and outs of their competitive landscape is just as much a part of the solution as understanding the marketing tactics.
What is the first step in helping our clients develop a digital marketing strategy?
Shauna: The first step in helping our clients develop an effective strategy is to understand their "value proposition" -- why they exist and the problems they are solving for customers. To be successful in setting and achieving goals, we need to truly understand the client's business and both short and long term goals. Do they want to be acquired? Get more funding? Expand to new markets? Knowing the clients' objectives and what value they add to their audience allows us to make success possible.
Along with identifying what success looks like, the next important step is to identify and allocate resources. A thorough strategy and execution plan will use the resources we have in the most efficient way. By becoming familiar with which kinds and what levels of resources are appropriate for various marketing tactics, we can identify low-hanging fruit and quick wins -- and when the client wins, we win.
What is account health and why is it important?
Loni: Account health is the measure of success between our team and our client. Monitoring a number of account key performance indicators (KPIs) is the best way for us to gauge the condition of our client work and proactively manage our relationships. Qualifying and quantifying account health gives us the essential insights we need to understand client performance, acknowledge areas for improvement, strategize next steps, and effectively allocate resources.
Fostering great relationships with our clients is crucial, and one of the most essential parts of maintaining those relationships is to avoid mistaking a nice client for a happy one. When a company chooses us as their B2B marketing partner, they can trust that we never take a great relationship for granted and are constantly one step ahead in planning the next steps for their success.
As our clients grow, how will the Account team continue to exceed their needs?
Dan: The Account team at Beacon Digital is empowered to take ownership of the relationships we have with our clients. From Account Directors to Account Executives, every member of our team has a voice that we use to encourage our clients to think outside of the box.
In order for the Account team to operate as effectively as possible, we foster our relationships with our clients to help them view us as an extension of their internal team, rather than a vendor that they contract with. It's crucial for everyone to understand that we're all on the same team with the singular goal of helping our clients succeed. Our goal is to make each of our clients feel like they're our only client.
Team up with the experts at Beacon Digital
Hiring a strategic B2B marketing agency can be daunting. How do you know who to trust with the growth of your company? At Beacon Digital, businesses work closely with our experienced, relationship-focused Account team whose number one goal is to grow your business. Our priority is to ensure you have the best resources for your unique needs. To learn more about what it's like to work with the team at Beacon Digital Marketing, get in touch with us.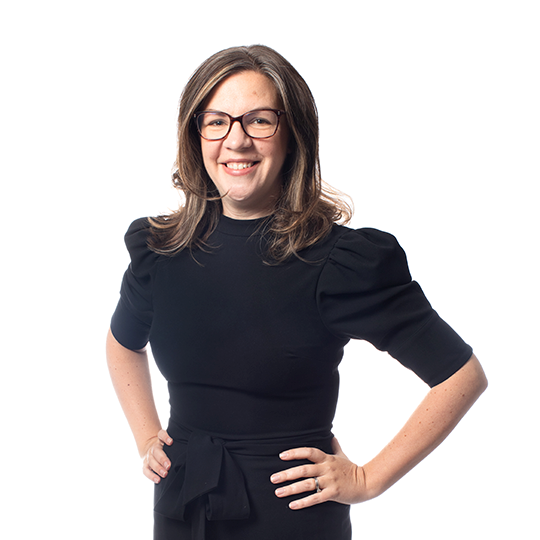 Whitney Mitchell
Whitney is a natural leader with a knack for creating something out of nothing. She's helped dozens of brands gain greater recognition for their causes and products in the digital world. Whitney's experience doing literally every job Beacon offers, from graphic designer to operations to web developer means she's not afraid to roll up her sleeves and dig in when it comes to helping Beacon's clients build the future of business.