Beacon Digital Marketing is proud to announce national certification as a Women's Business Enterprise by the Women Presidents' Educational Organization-New York, a regional certifying partner of the Women's Business Enterprise National Council (WBENC).
WBENC's national standard of certification, which includes a meticulous review of the business and site inspection, is designed to confirm that the business is at least 51% owned, operated and controlled by a woman or women. Beacon Digital Marketing's founder and CEO Whitney Parker Mitchell owns 100% of the company and currently employees 11 full-time women who make up 65% of its staff.
"Entrepreneurship is vital to our economy, yet there are still significantly fewer women than men who start and grow businesses," Mitchell said, "I'm proud to be among those who are closing the gap."
Providing mentorship to aspiring women in technology and business inside and outside of her organization is another way that Mitchell is contributing to the future success of women in business: "Together, we can strive toward greater equality of opportunity."
According to a recent American Express study on the State of Women-Owned Businesses, the gender gap is far from closed.
Despite the fact that 40% of businesses in the United States are now women-owned (up from just 29% in 2007) only 1.7% surpass the threshold of earning $1M in revenue, compared to 12% for businesses overall.
Although women-owned businesses employ 9.2 million people and generate $1.8 trillion revenue, these numbers only account for 8% of the total private sector workforce and 4.3% of the total private sector revenue.
Additionally, while women have enjoyed increased representation in the boardroom, the C-suite, and in U.S. politics in the last two years, they are still vastly under-represented for a group that makes up more than 50% of the U.S. population:
In 2019, the 116th U.S. Congress included 127 elected women -- the highest number ever elected. Still, the makeup was only

25% women in the U.S. Senate and 23% in the U.S. House of Representatives

.



Globally, there are only 33 female CEOs in the Fortune 500 (the highest number ever) as of 2019.
Female directors on corporate boards account for just under 25% of the total board member roles (also the highest figure ever).
Why Should You Hire a Women-Owned Business?
Including women-owned businesses among your suppliers, corporations and government agencies not only demonstrates a commitment to fostering diversity, it has a positive impact on your bottom line too.
"We believe that diversity in leadership teams and in a company's supplier and vendor relationships can enhance creativity, competition, and spur innovation," said Mitchell.
Not to mention:
Tax Incentives: The federal government provides tax incentives to companies who work with minority and women-owned businesses.
Competitive Advantages: Studies have shown that partnering with a WBE provides clear competitive advantages, including increased profitability and lower overall operating costs.
Improved Public Relations: Working with a WBE demonstrates your commitment to diversity. It's good PR — and makes your business more attractive to larger corporations who are looking to work with women-owned businesses.
Additional Service Options: When you partner with a WBENC-certified business, you get the added benefit of forming relationships with their alliances.
About Beacon Digital Marketing
Beacon Digital Marketing helps B2B companies generate more leads, gain greater awareness among target audiences, and leverage technology to become more efficient marketing organizations. Drawing on many years of experience working with top global brands across a variety of industries, we work closely with our clients to achieve measurable business results with our online strategies.
Our services span many facets of marketing, including digital marketing strategy consulting; lead generation and lead nurturing campaigns; online advertising strategy and management (SEM/PPC); search engine optimization (SEO); social media strategy, management, contests, and advertising; email marketing; marketing automation and CRM integrations; marketing analytics; and much more.
By the numbers:
Beacon is 100% women-owned
More than 50% of Beacon Digital's leadership team is comprised of women
Beacon employs 17 full-time individuals based in the United States, 11 of whom are women, offering flexible work environments, work-from home options, and professional advancement opportunities.
To learn more about Beacon Digital Marketing, please visit beacondigitalmarketing.com.
About WBENC
Founded in 1997, WBENC is the nation's leader in women's business development and the leading third-party certifier of businesses owned and operated by women, with more than 13,000 certified Women's Business Enterprises, 14 national Regional Partner Organizations, and over 300 Corporate Members. More than 1,000 corporations representing America's most prestigious brands as well as many states, cities, and other entities accept WBENC Certification. For more information, visit www.wbenc.org.
References and Further Reading:
For more information, or to speak with Whitney Parker Mitchell directly, email: whitney@beacondigitalmarketing.com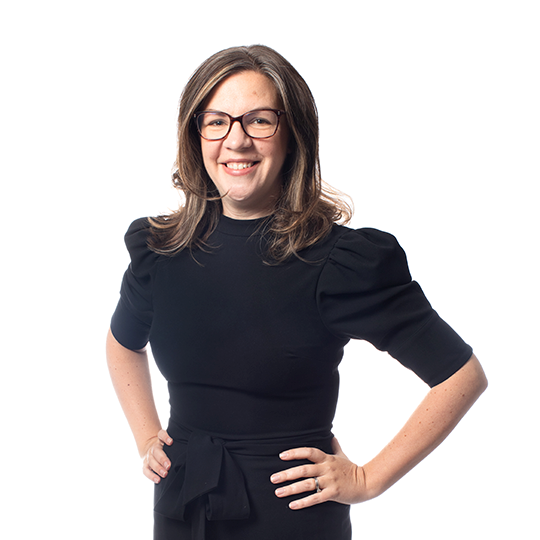 Whitney Mitchell
Whitney is a natural leader with a knack for creating something out of nothing. She's helped dozens of brands gain greater recognition for their causes and products in the digital world. Whitney's experience doing literally every job Beacon offers, from graphic designer to operations to web developer means she's not afraid to roll up her sleeves and dig in when it comes to helping Beacon's clients build the future of business.