The cybersecurity industry continues to see astounding growth year over year. Thousands of companies are promoting their innovative products and services, looking to capture part of the massive marketplace. As long as cyber crime remains lucrative, the industry will continue to soar.
According to Cybersecurity Ventures, global spending on cybersecurity products and services will exceed $1 trillion cumulatively over the five-year period from 2017 to 2021.
It's a crowded marketplace out there, to put it simply. But huge demand means huge reward for those companies that are able to effectively catch the eye of their target audience.

So what companies are nailing it with cybersecurity ads for their B2B solutions? Here we look at 20 of the best cyber security ads we've seen lately that are interesting, compelling, and strong examples of best practices in digital advertising.
Top Cybersecurity Ads to Learn From

Trend Micro


Trend Micro is a big name in the cyber security world, known for their solutions, research, and security blogs. This cybersecurity advertisement stands out for several reasons. First, it uses intriguing stats to capture attention quickly. We've found that numbers and statistics on paid ads are often excellent attention-grabbers. Second, the copy is short and to the point and focused on the value to the viewer. Third, the ad is making smart use of LinkedIn carousel ads, using connected visuals to entice a viewer to click through and learn more.

RSA


Sometimes simplicity is key! In this ad, the image copy is the hero. A simple design helps the text stand out, and the offer is clearly stated. As part of our paid social campaigns at Beacon Digital Marketing, we've seen great success offering guides, ebooks, checklists, and other premium content as downloads in mid-funnel campaigns. What would we do differently? Instead of linking to a landing page on the RSA website, we've found that LinkedIn lead generation forms increase conversion rates by keeping people inside the LinkedIn platform.

Siemplify


Siemplify did an excellent job of creating a timely, relevant ad for security leaders needing to manage security operations remotely during the COVID-19 pandemic. It avoids overused phrases like "the new normal," "we're here for you," and "unprecedented times" to instead emphasize key concerns and potential solutions. The offer in this cybersecurity ad is clear, the visual is engaging, and the messaging aligns with what SOC pros are experiencing.

Crowdstrike


Nice job to CrowdStrike on using LinkedIn lead gen forms for this download! CrowdStrike offers cloud-delivered endpoint protection. This cybersecurity advertisement offers a white paper that highlights their expertise and specific niche while also providing a solution for the viewers to learn more about ransomware. The visual is striking and in line with what is distinctive for their brand.

A-Lign


This ad from A-Lign is a good example of what we would create for a bottom-funnel paid social ad. In a bottom-funnel campaign, our strategy is to remarket to audiences who are already familiar with and have engaged with other content or ads. The goal is to offer a demo, consultation, or sales call specific to the company and services to people who are further down the buyer journey and closer to making a purchase decision.
FireEye


FireEye turned to video to promote their quarterly Email Threat Report. The video shares compelling statistics to engage, set up the problem, and entice viewers to download the report to learn more. If you aren't yet using video in your marketing, now's the time to give it a try. 83% of marketers say video has helped them generate leads, according to DemandGen.

Fortinet


Fortinet provides a mini-case study in video form to explain the additional security risks posed by the increase in remote workers. After addressing a few examples in the video, their cybersecurity ad drives back to a blog on their website so viewers can learn more about the challenges as well as Fortinet solutions.
Palo Alto Networks


Palo Alto Networks provides the full package with a bright and bold visual that aligns with the idea of "confidence" highlighted in the image copy. The headline is clear, and once again this ad offers value to viewers first, rather than putting the emphasis on the company and their services.
Imperva Incapsula


Remember that ads don't only speak to a prospective audience! Targeting is key. We love that this ad is served to those that already use Joomla!, a content management system, and might want a refresh. Promoting a webinar in partnership with another company is a great way to expand your target audience. Plus, the design makes nice use of contrast. That green button pops, enticing users to click and register. One thing that we would change is to minimize the copy on the image itself to maintain more of a visual hierarchy. At the end of the day, a conversion is your goal so make sure that your CTA has a chance to shine.

Sternum


Sternum's cyber security advertisement is a great example of straightforward messaging. This ad could use a clearer call to action, but for a top-funnel paid social ad, it gives the viewer a good idea of what their company is about.

Dashlane
We've all been there: You can't remember the name of your first grade teacher or what your childhood turtle's name was. Dashlane does an incredible job of reminding their viewers of just that frustration during their Super Bowl LIV commercial. We're loving the balance of humor and (almost) painful relatability.

Proofpoint
This is another great example of strong data doing the talking. The use of bold color and text was an excellent choice on Proofpoint's part. With such a large figure at the forefront, this cyber security advertisement engages viewers to read on. We like that they're pushing viewers directly to their website for downloadable content in the paid social ad.

StandardUser Cyber Security
Unlike our previous ads, StandardUser Cyber Security gives the viewer more to read within the primary text of their ad. This strategy gives the viewer enough context to stay interested, but not too much that they feel they don't need to click-through. Their use of bold imagery and colors is fun, too. While this approach wouldn't work for all brands, it could definitely catch the eye of their target audience.
Untangle
This cyber security advertisement is clean and striking. The usage of brand colors shine through. Untangle's messaging positions them as an expert on building a maintainable network security plan.

Darktrace

This ad from Darktrace does something we haven't seen yet. It plays directly on the timeliness and relevance of the ad. By triggering an ad with messaging surrounding a time of year where stress about keeping up with cyber security best practices may not be a top priority is a bold choice. One that we think would pay off.

EMPIST


EMPIST uses video in a less traditional way in this ad. The 10 second clip simply animates their graphic in a way that is slick and inviting to the viewer. By posing this simple question within their graphic, in coordination with the urgency found in their primary text, EMPIST is urging their audience to reach out.

ZeroWall.ai


ZeroWall.ai also puts the value of their ad onto their viewers, rather than their company. These stark colors and clear graphics make for an eye-catching ad. We would suggest driving the ad to their native website rather than a third-party piece of content. This directs potential customers in the right direction and allows them to explore your services at their own discretion.

Accenture

Accenture's playful LinkedIn ad has consistent campaign messaging throughout. We see the idea of 360° played out within their copy and imagery. Unlike Trendlike's carousel ad, which highlighted data, this ad uses each panel to expand upon a vibrant and trendy design that we think will draw the viewer's attention.
CMIT Solutions

CMIT Solutions's LinkedIn cyber security advertisement invites business owners to an exclusive event. When targeted correctly, directing viewers right to the registration page is a great move. This ad comes across as approachable and inviting, which is key when considering their audience is not composed of cyber security professionals.

FireEye

Pairing the message with the visual design of your ad is an excellent way to get your point across. This ad from FireEye, Inc. is pushing viewers to simplify their security operations using simple copy and clean imagery. Their use of LinkedIn lead gen forms increases conversion rate and makes it simple for their viewers to learn more.
Red Canary

Red Canary's ad is simple but creates a strong sense of urgency. Though simple, their primary text gets their message across clearly. Plus, we love how the ad feels cohesive with their overall brand.


Cybersecurity marketing campaigns can be highly competitive, but there are ways to rise above the noise with well-designed visuals, smart content offers, and behind-the-scenes strategy and ad management. Our team has worked with dozens of clients selling cybersecurity technology tools and services to do just that!

You can find out more about our cybersecurity advertisement and marketing services and get in touch with us here.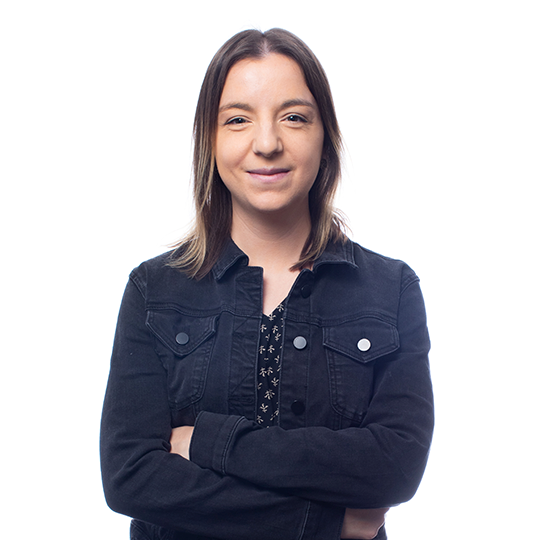 Nicole Spewak
Nicole is Content Director at Beacon Digital Marketing, where she leads a team of writers, editors, and strategists in creating effective content strategies backed up by compelling content that gets results. She specializes in creating content for the fintech, cybersecurity, and risk and compliance industries.