CEO & Founder Whitney Parker Mitchell Honored as Inaugural Recipient
Beacon, NY - October 16, 2023 | Beacon Digital Marketing, a leading digital marketing firm based in Beacon, NY, is thrilled to announce the selection of its CEO & Founder, Whitney Parker Mitchell, as a recipient of the 'CUSE50 Alumni Entrepreneur Award 2023. This prestigious accolade celebrates Beacon Digital's exceptional achievements as one of the 50 fastest-growing businesses owned or led by Syracuse University Alumni.
Reflecting on the impact of Syracuse University on her career, Whitney (M.A. International Relations, 2006) shares, "Syracuse University, especially the Maxwell School of Citizenship and Public Affairs, equipped me with a robust foundation in negotiation, conflict resolution, and international relations. These skills have been instrumental in my daily operations as the CEO & Founder of Beacon Digital, where we service clients around the globe dealing with complex issues."
The Martin J. Whitman School of Management provided additional insights and skills, enriching Whitney's understanding of the business world.
Whitney added: "The university has not only provided me with academic knowledge but also practical skills that I apply daily when working with our clients in the cybersecurity and tech industries."
In addition to Whitney, several key members of the Beacon Digital team proudly bear the Syracuse University alumni badge, bringing with them a wealth of knowledge, diverse perspectives, and a shared commitment to excellence. They are:
The 'CUSE50 Alumni Entrepreneur Award ceremony, taking place on November 9, 2023, at Syracuse University, will be a momentous occasion for Beacon Digital Marketing. The team looks forward to celebrating with fellow awardees and engaging with the Syracuse University community.
To learn more about the 'CUSE50 Alumni Entrepreneur Award and view the complete list of winners, please visit the 'CUSE50 website.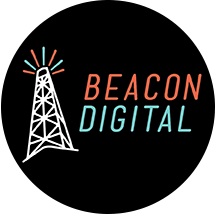 Beacon Digital Marketing
Companies shaping the future of business rely on Beacon Digital to build the marketing foundation they need to grow. Beacon Digital is the agency for trailblazers in fintech, cyber security, healthtech, edtech, and B2B SaaS. Drawing on decades of collective experience working with top global brands across a variety of industries, we deliver measurable results through integrated digital campaigns; website design and development; multimedia content production, marketing automation and CRM optimizations, and creative branding. We're more than a marketing agency; we're an extension of your team. We operate from home-offices across the U.S., and on occasion, our New York headquarters in the scenic Hudson Valley.